about us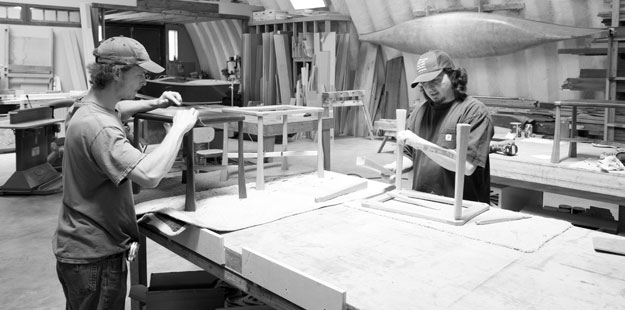 Wood Studio is a family-owned and operated Alabama based company that opened in 1986 in Decatur, AL. Currently Randy operates the office in Fort Payne and Keith and Dylan run the shop in Arley. We are a custom woodworking design and fabrication service, specializing in small and medium scale residential and commercial projects. We work with design professionals and individuals to produce a broad range of high quality furnishings that are both aesthetically appropriate and technically functional.
We must introduce the Cabinetmaker's Sidekick, this handy invention was devised and created by Randy for anyone who carries a tape measure and pencil. We feel certain after having a Cabinetmaker's Sidekick on your side, you will discover just how helpful this little device is.
We hope you enjoy our work, and we look forward to working with you. If you have a question about anything seen on the web page, or would like more information concerning a certain piece, please contact Randy, Keith, or Dylan for a free consultation.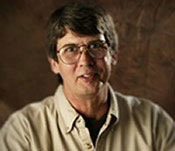 Randy Cochran
Randy studied industrial design, marketing and business at Auburn University, where he received a degree in business administration. He was privileged to study with instructors whose professors were from The Bauhaus School of Design. Randy has worked in design and fabrication of woodworking machines, telephones, industrial metal working machinery, electronic equipment, custom cabinets, commissioned fine furniture and museum exhibits.
These varied and divergent technical fields allow him to draw from a broad range of information to achieve the goals of his work.
Randy, a founding member of the Furniture Society, built his first piece of commissioned work in 1973. From 1972 until 1986 Randy honed his skills as he worked part time as a woodworker. In 1986, Randy opened the doors to Wood Studio and has since worked every day to grow our small family business.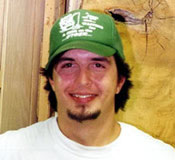 Keith Cochran
Keith filled all of his high school electives with art classes, worked part time with his father at Wood Studio, and while still in high school, began working in the custom car audio business. For several years he worked throughout the Southeast designing and fabricating custom car audio and security systems for individuals and major manufacturers. Many cars toured nationally and competed in sanctioned car audio events.
Keith earned his bachelor's degree from the College of Industrial Design at Auburn University where he won several "Best of Studio" awards and designed and constructed his own Kevlar canoe. After graduation, he relocated to the banks of the Caloosahatchee River near Sanibel Island in southwest Florida. He was employed as a custom boat builder for Hugh Saint, Inc., where he constructed classic mahogany runabouts.
Keith's skills include woodworking, fiberglass construction and fabrication, vacuum forming, welding, metalworking, casting, plastic fabrication, painting and wood finishing, rendering and model making. He recently moved to Houston, Alabama, located on the banks of beautiful Lewis Smith Lake within the Bankhead National Forest. He commutes to Nashville to work with his father and brother.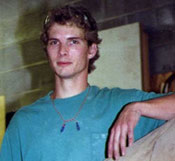 Dylan Cochran
Dylan has enjoyed many aspects of artistic design from an early age. While in high school, he won awards in several area art contests. He was voted most talented of his sophomore class and most environmental in his junior class, and was a member of the National Honor Society. He also worked part time for his father at Wood Studio.
Dylan went on to graduate from Auburn University with a Bachelor of Science degree in Wildlife Management. He participated in the Cooperative Education Program where he worked as an air quality technician for an environmental consulting firm. He worked one summer as an intern for the Council on Environmental Quality, Executive Office of the President, in Washington, D.C.
Most recently, Dylan was living in Boulder, Colorado, where he worked as an electrical apprentice in order to afford opportunities for travel and outdoor adventure. Having realized no personal satisfaction in the workplace, Dylan was convinced to move back east to participate in the family partnership.