signature furniture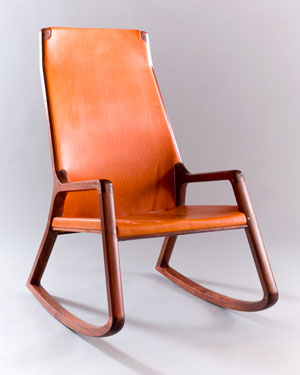 Lookout Mountain Rocker
$3950.00
This rocking chair was originally designed by Randy when Keith and Dylan were babies. Wood Studio has continued to produce this signature piece for over 30 years.
The fully suspended seat and back are comprised of hand stretched saddle leather. The vegetable tanned leather provides support while being flexible enough to cushion. When seated, the individual draws the wooden frame of the rocker together. The joints are through mortise and tenon, pegged forever with brass pins. The strength of the mortise and tenon joinery has been proven for centuries and enhances the distinct character of this simple rocking chair.
Each Lookout Mountain Rocker comes natural in color with a select hand rubbed oil and wax finish that is durable and easily maintained.
Wood Studio offers this signature piece in a variety of native hardwoods, including walnut, cherry, maple, red and white oak, and ash. We are open to special requests for other select materials.
The Lookout Mountain Rocker is available in dark brown and saddle tan leather.
Each Signature Selection offered by Wood Studio is 100% handmade by the Cochrans. We guarantee that each piece will be free from defects in craftsmanship and materials for as long as the piece and the Cochrans are around. Wood Studio builds each piece to provide for generations of enjoyment.