cabinetmaker's sidekick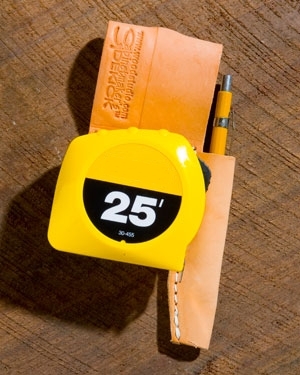 $25.00
(Plus $4.00 Shipping and Handling)
The Cabinetmaker's Sidekick was designed to carry a tape measure and writing utensil on your belt. Never waste another minute looking for your tape measure and pencil.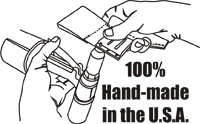 I designed and built the first Cabinetmaker's Sidekick because I had a need for such a device. After using it in the "real world" for several years, and sharing them with my friends and family, I decided to share them with all. I am sure you will find this little device will become one of your most valued tools. So from our shop to yours, I hope you enjoy and your 'Sidekick serves you well.
Each Cabinetmaker's Sidekick is sewn together by American craftsmen, using traditional, time-proven techniques. Then each one is hand-assembled with care.
They are available with the pencil holder on the right or left of the tape measure.
If you saturate the leather with water, insert your desired writing utensil, and allow to dry your 'Sidekick will accommodate almost any writing utensil.
The stainless steel clip will securely hold most tape measures.
You can anchor your 'Sidekick on a belt loop by using the slot on the back.
The Cabinetmaker's Sidekick is perfect for anyone who takes measurements and notes.
Each Cabinetmaker's Sidekick is guaranteed to be free of defects. If you have a problem within 30 days of purchase, you may return it for a full refund or replacement.
This fine product is brought to you by the guys at Wood Studio. Contact them for wholesale or retail information.
Also available at these locations: